I found this quiz online one day while I was looking around for Asperger related information. I took it just out of curiosity to see what my results would be. Since Asperger's and Autism are known to have a genetic component, I wanted to know if I was an Aspie too. It certainly seems like it some times when I have anxiety and trouble dealing with stress. (although these things only happened after I was an adult - a parent to be exact)
Today I got the Boy to take the quiz. He's been much more sociable and relaxed these past few days. Not to mention awake during the day instead of only at night. We were calling him the "vampire boy" for a while.
If you want to take the Aspie Quiz just click
here
.
The scores are broken down into the different areas on the chart and it was very interesting to see all the results.
I took the quiz twice on different days. This was my results the first time I took it. The second time I took it, I deliberately tried to get a more "Aspie" score, but I still ended up neurotypical. The Boy was quick to point out on my results how low my Intellectual score was. He had a good laugh at at my low intellect! I responded "Yes, but see how physical I am!" If I were a cave man I could really hunt some buffalo.
Results- Aspie score: 60 of 200
neurotypical (non-autistic) score: 145 of 200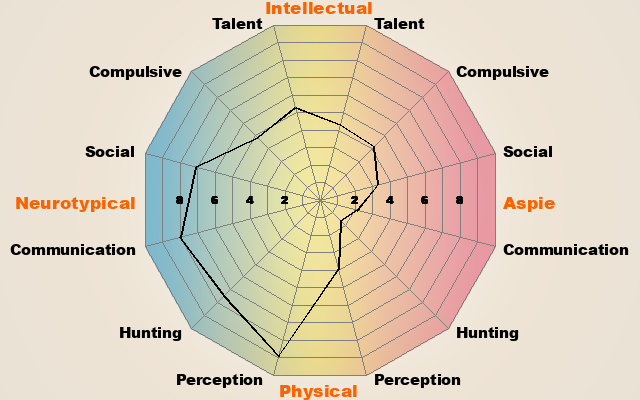 My Quiz Results =
Neurotypical
Here is the Boy's quiz results showing what we already know. He's an Aspie. He's also quite intellectual. Maybe not such a good buffalo hunter though.
Results- Aspie score 122 of 200
neurotypical (non-autistic) score 83 of 200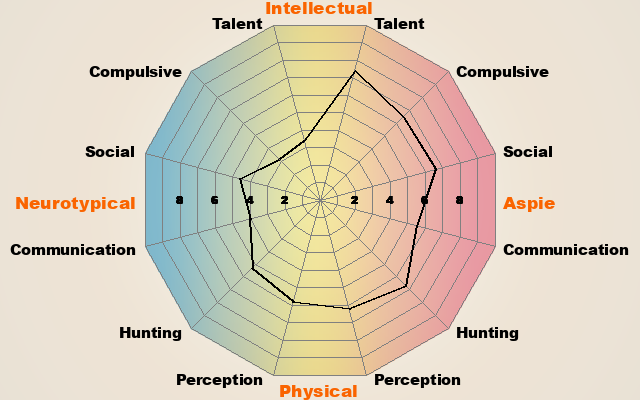 The Boy's Results =
Aspie
It's a good thing we have Mexican restaurants nearby. He and I consumed large quantities of this stuff the other day along with chips and salsa. No buffalo.
Please share your scores in the comments if you decide to take the quiz. Hopefully you will be more intellectual than I am.