I'm not that creative so this is about as good as I can do. I apologize in advance....
This is my first attempt at the Special needs Ryan Gosling meme that was started several weeks ago by Sunday Stillwell. See more or these memes at her blog here -
http://www.extremeparenthood.com/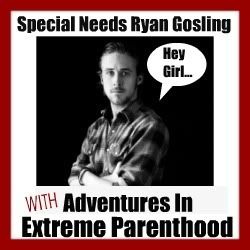 I would never have been able to figure this out if The Boy wasn't here from college to help me. He gets all the credit on helping me cut, paste, save, etc. He didn't think my memes were that funny although he did remember the botanical drops for relieving stress that I bought for him from GNC the summer he worked for his dad. He said the drops actually worked.